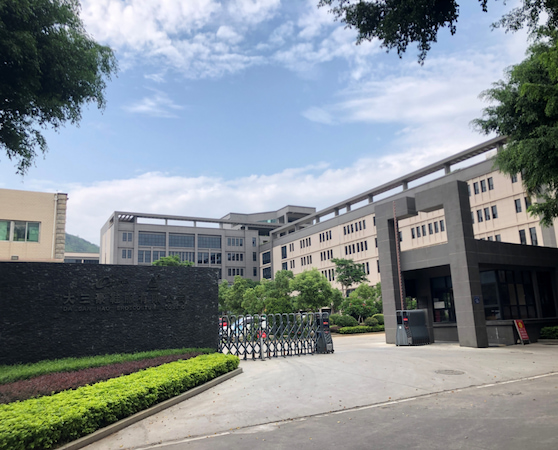 Dasanhao Footwear & Clothing Co., Ltd was founded in 1994, located in Jinjiang City, China, which is known as the "Capital of Chinese Brands".
Our company specializes in producing a variety of shoes, including but not limited to waterproof shoes, hiking shoes, snow boots and casual shoes. We have established a strong presence in the United States, Canada, Russia and Europe, where our products are highly praised by our customers.
We are committed to delivering high-quality and comfortable shoes for our customers around the world, with a focus on innovation, sustainability, and customer satisfaction.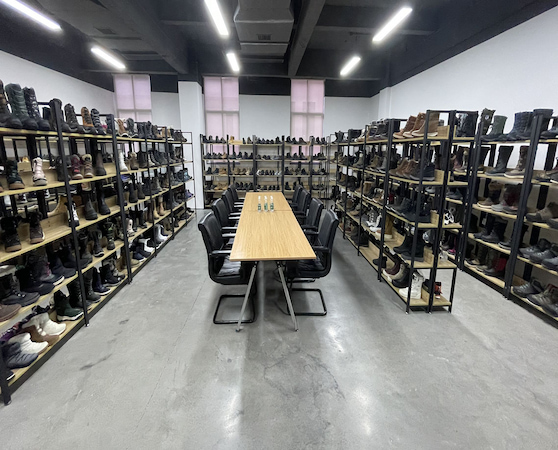 Our Procedures
1. Receive Inquiry: The customer provides detailed information about the type of shoes they are interested in, including the style, material, color, size, quantity, and any other specific requirements.
2. Quotation: Based on the customer's requirements, we will provide a detailed quotation that includes the price per unit, minimum order quantity, lead time, and payment terms.
3. Negotiation: If the customer has any questions or concerns about the quotation, they can negotiate with us to reach an agreement on the terms and conditions.
4. Samples: The shoe sample is sent to the customer for confirmation. The customer will inspect the shoe sample and provide feedback on any changes or adjustments that need to be made.
5. Receive Order: Once the terms have been agreed upon and the order has been confirmed, We will begin production.
6. Quality Control: Throughout the production process, we will perform quality control checks to ensure that the shoes meet the customer's specifications and quality standards.
7. Packaging & Shipping: Shoes will be packaged according to the customer's requirement and we will work with the customer to determine the best shipping method and options, including air or sea freight, customs clearance, and delivery to the final destination.
8.After-sales service: We will provide after-sales service to ensure that the customer is satisfied with the product. This may involve addressing any issues or concerns, providing repair or replacement services, or offering ongoing support and maintenance.
Competitive Advantages
Community charging overall solution covers all application
Experience

With 30 years of experience in the shoe industry, we have a wealth of knowledge and expertise that can be leveraged to produce high-quality shoes efficiently and effectively.

Quality

We use only the best materials and production techniques to ensure that our shoes are durable, comfortable, and stylish.

Customization

We can customize our shoes to meet each client's specific needs and preferences, including size, color, and design.
Community charging overall solution covers all application
Sustainability

We are dedicated to sustainability by using eco-friendly materials and production processes whenever possible to minimize the environmental impact of our products.

Markets

Our strong presence in key markets, including the United States, Canada, Russia, and Europe, demonstrates our ability to meet the needs of clients in diverse markets, providing clients with confidence to deliver high-quality shoes worldwide.

Team

Our team includes experienced designers, craftsmen, and quality control personnel who work together to ensure that our shoes meet the highest standards of quality and comfort.
Factory Pictures
Quality Control Process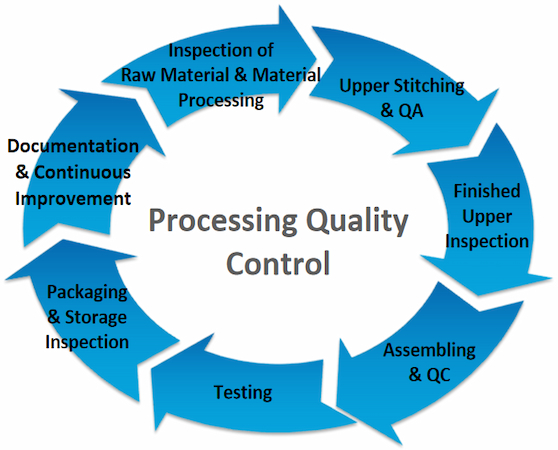 1.Incoming Raw Material Inspection: Checking the materials for any defects, such as color variation, texture, and thickness.
2.In-Process Inspection: The quality control team Inspects cutting, stitching, lasting, and finishing processes. The team also checks for any defects such as uneven stitching, glue stains, and damage to the material.
3. Pre-Final Inspection: Checking for scratches, stains, and unevenness.
4. Final Inspection: The QC team checks each pair of shoes for any defects, such as stitching issues, incorrect sizing, and damage. The team also checks the shoes' overall appearance, including color, texture, and finishing.
5.Packaging Inspection: The team checks the packaging for any defects, such as incorrect labeling, incorrect packaging materials, and damage.
6. Testing: Conducting tests to ensure that the shoes meet the required performance standards. The tests may include abrasion resistance, flex resistance, water resistance and compression.
7. Documentation & Continuous Improvement: Recording all inspections, tests, and corrective actions taken.The QC team analyzes the documentation and identifies areas for improvement.